With a lot of the East Coast snowed in and there bound to be more upcoming snow days, I thought I would share with you my snow day essentials.  With me being a teacher in the Midwest, I usually have at least one snow day every winter and I'm pretty sure I enjoy them just as much as when I was younger!  Unfortunately I haven't had one yet this winter, so fingers crossed I get one soon.  These snow day essentials are my must haves that make any snow day more enjoyable!
1. Comfy Sweater
On a snow day, you can usually find me in a comfy, over-sized sweater and leggings.  It's pretty much my snow day staple when it comes to my outfit.  If I'm for some reason not in this outfit, I most likely just stayed in my pjs and didn't get dressed =]

2. L. L. Bean Boots
If you're going to go outside on a snow day, then a pair of bean boots are perfect for that!  I especially like to wear my L.L. Bean Boots when it's icy out because they have such good traction and I don't have to worry about falling as much!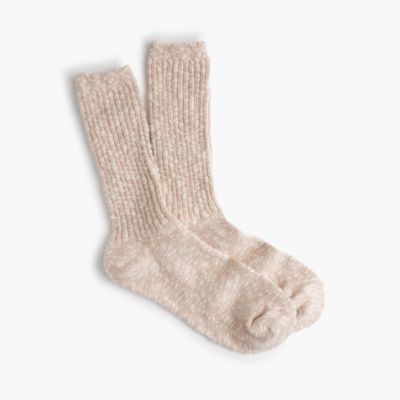 3. Cozy pair of socks
Nothing is better than a cozy pair of socks when you know you're going to be lounging around inside!  These socks from J. Crew are perfect.

4. Netflix
I feel like Netflix is a pretty obvious essential for a snow day!  I know that most snow days that I have, I binge-watch something on Netflix.  My recommendations are Making Murderer, Breaking Bad, One Tree Hill, or Gilmore Girls.
A good book
Reading a good book is another thing that I almost always do on a snow day.  I just finished Every Fifteen Minutes by Lisa Scottoline and I highly recommend it if you like books that keep you guessing!  My second recommendations is The Selection series by Kiera Cass.  If you like series like The Hunger Games, Divergent, or Delirium, you'll love this one!  Lastly, I recommend any book by Colleen Hoover if you're looking for a good romance.  I haven't read a book by her that I haven't loved!
Hot Chocolate
Hot chocolate is always a good idea in the winter months, but it seems to taste even better when you're snowed in!
That wraps up my snow day essentials!  I hope you liked this post and got some ideas to make your next snow day even more enjoyable.  I would love to hear what your snow day essentials are in the comments below!
-Michelle